Texas Insurance Agency publishes with some of the same best insurance carriers out there to get you a Fulshear TX affordable life insurance policy. Our priority is to meet your needs no matter your history, preference, or budget.
As an independent agency, we enjoy building trusting relationships with our clients. We can give you the superior customer support you cannot find at a larger agency. Getting to know you professionally and personally is what it takes to understand what coverage would be best for you. And then, we want to go the extra mile in explaining to you so that you know your own policy's in and outs.
If you live with family that is dependent on your income, it is responsible to purchase a life insurance policy. All forms of insurance are for if the unexpected were to happen. We do not like to think of any of the potential situations that we prepare for with protection, but we do it for the people we love. If the unexpected and worse were to happen, your loved ones would be financially protected.
In the case of your passing, your spouse, children, or any other dependents would receive a lump sum. This money would go towards getting them through the loss of the income they used to live on. It can also resolve any debts, taxes, or funeral expenses that you leave them. All this is only to keep your family safe and stable if they were to lose you.
Term Life v. Permanent Life Insurance
In a term life policy, a death benefit payout comes if one passes in during the term limit set in the policy. Usually, these are increments, such as 10, 20, or 30 years. If the insured dies before this period is up, then the beneficiaries receive the payout. If the insured lives longer than the term, then there is no payout. The benefit of this policy is the premiums are far lower than a permanent life insurance policy. However, when the term comes up, the insured has the option to renew or convert the policy to a permanent one.
Permanent Life does not expire and has a death benefit no matter when you die, as long as you kept up with the payments. Monthly premiums are higher, but the cash value of the policy accumulates over time, grow with the market, and usually include a savings component. There are many options with this kind of policy. Sometimes, there are instances where the value can be accessed while you are still alive. It is our job to do the leg work to find the Fulshear TX affordable life insurance policy for your right rainy day.
Here at Texas Insurance Agency, we work with many major carriers to get you the best insurance. Our aim is the maximum coverage for the least amount of dollars. We are an independently owned insurance agency, owned and operated by the two of us and our office manager. Our independence allows us to be unbiased and work for you, not the insurance companies, when finding you the best coverage.
Roland Cardner, CIC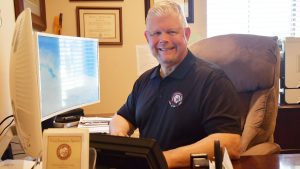 Roland graduated from Lamar University with a Bachelor's of Science in Physical Education with minors in Communication and Life and Earth Science. He went on to earn his Master of Science in School Administration from the University of Houston-Clear Lake. Roland started as a middle school science teacher and high school coach and later became a middle school assistant principal.
In 1997, he changed careers and became an insurance agent at Allstate, where he earned many honors. He has his Property and Casualty License and Life and Health License. In 2004, he became a Certified Insurance Counselor. He sold his agency for a short time in 2007. Shortly after that, he started and became an owner of the Texas Insurance Agency.
He and his wife Alice joined the Katy community in 1997 with their four children, Brandy, Mallory, Timothy, and Sara, and four grandchildren. Roland participates heavily in his community as a member of the Cinco Ranch Rotary Club, volunteering with the disabled at Brookwood Community and providing homes at The Ballard House.
Jeffrey R. Fogleman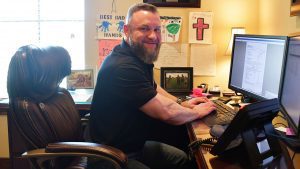 Jeffrey comes from insurance. Which is to say, he started his insurance career as an apprentice to his father at Farmers Insurance Group. During those first two first years, Jeff learned the ins and outs of insurance. He became a manager and developed his father's agency into one of over 4,000 policies.
In 1998, Allstate recruited Jeff, and he became the manager of his own agency. He won several awards during his time there. Within 18 months, he grew through the acquisition of another existing agency. Jeff had four customer service agents and two sales agents under him. In 2003, he purchased his father's agency when he retired.
After ten years with Allstate, he sold his agency and became an independent agent. Jeff partners with Roland at Texas Insurance Agency and they are proud to put forward their expertise for the Fulshear TX community. Jeff and his wife Kimberly and their four kids, Kaylie, Kendra, Kara, and Nate, love the time they are spending now in Katy.
Kristy Thompson
Our sales manager, Kristy Thompson, started in insurance in 2002 with Allstate as a Customer Service Rep. There, she earned her Property and Casualty License and Life Health Insurance License. She helped grow the successful agency she was part of, rose to sales, and soon oversaw the progress of two agencies.
In 2012 she joined the Texas Insurance Agency family and brought the same passion and results she had with sales and management. She has built our agency's personal lines department. Kristy makes sure to provide her clients with the best coverage possible.
Kristy has thoroughly enjoyed watching her Texas Insurance family's families grow, and their children's families as well. She has been happily married to her husband, Bobby, for 35 years and had the pleasure to raise an amazing son with his own family. They have lived in Texas all their lives and Katy since 1989.
Fulshear TX Affordable Life Insurance
Allow our agents' quality customer service, honesty, and integrity to take responsibility for your insurance needs. We can also be your provider for any other insurance needs you have: auto, business, flood, boat, motorcycle, health insurance, life insurance, and home insurance. If you are ready to get started and protect what matters by setting them up with Fulshear TX affordable life insurance, call (281) 398-1010.
Fulshear Fun Facts
We feature the highest per capita income and educational attainment in the Fort Bend County
Fulshear was established in 1824
In 1988 Fulshear had a population of 623 and twelve businesses.
Find more fun facts about Fulshear here: http://www.fulsheartexas.gov/about_us/history.php