Are you looking for Pearland TX motorcycle insurance? You've come to the right place – Texas Insurance Agency has all of your biking needs covered. As partners of Federated National, Texas Mutual, Travelers, Liberty Mutual, and more, they are experts in the field.

Meet the team – Roland Cardner (owner), Jeffrey R. Fogleman (owner), and Kristy Thompson (sales manager) pictured in-office. 
WHY DO YOU NEED PEARLAND TX MOTORCYCLE INSURANCE?
Besides being legally required in Texas, the most obvious reason for bike insurance is protection. Having good insurance protects you against expensive legal claims that can break your wallet.
In the event of an accident, you'll have your own injuries and repair damage to worry about. Let Texas Insurance Agency take care of the rest! Thanks to this small team of experts, the process of finding and selecting the right coverage is seamless.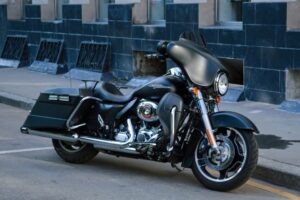 Do what you can to protect your vehicle! Purchasing the perfect coverage plan can keep all sorts of scenarios from draining your bank account.
MOTORCYCLE COVERAGE – THE BASICS
Before diving in, you need to understand all forms of coverage. If you're at fault, you'll need liability coverage to reduce the costs of potential damages. You could be charged for bodily injuries, property damage, and more (if you're an uninsured motorist, your expenses would be through the roof). With a good coverage plan, your insurance company can pay off these claims and manage your lawsuit after the incident.
What type of liability coverage best suits your needs and your budget? Each state has its own set of minimum requirements – in Texas, we use the 30/60/25 rule.
This means you need at least $30,000 in bodily injury for each injured person, up to $60,000 for all bodily injuries per accident, and $25,000 for property damage per accident.
Keep in mind that the first and third are *minimum* requirements and
the second is a *maximum* requirement.
There are a few other things to keep in mind – take guest passenger liability (i.e., GPL), for instance. In Texas, this won't be included in your plan; it's an additional cost.
There are also options to pay for seasonal coverage rather than year-round coverage. This is perfect for that cross-nation road trip you've been thinking about!
Other types of coverage include collision coverage (bike repairs and replacements) and comprehensive coverage (any damage that doesn't involve another vehicle, such as theft or vandalism). Some companies may offer underinsured motorist coverage (in case someone else's is lacking) and medical payments to assist with hospital bills.
The amount of money you'd like to invest is entirely up to you and your situation.
Before choosing, consider some things – what is your financial situation? Will you be taking a passenger along? How often are you riding? What value does your motorcycle have? If you've put money into alterations, you've probably increased the value of your bike.
Mull over each of these things before choosing what's best for you.
CHOOSING A COMPANY
How do you choose a company? It's all about the research! This is definitely easier said than done – it can be hard to sift through the complicated policies, rules, and regulations.
Thankfully, Texas Insurance Agency makes the process easy – as an independent agency, they are able to work more closely with their customers. This one-on-one approach makes delivery fast, simple, and straightforward. Thanks to this, they're able to provide Pearland Tx motorcycle insurance tailored specifically to you!
As a small group of experts, you can rest assured that all of your needs will be met. Their small team really focuses on making sure their customers are more than satisfied with their offers. With a simple click of a button, it couldn't be easier to get a quote.
It's also pleasing to know that they take care of the complicated details with other insurance agencies. It's almost too easy for large insurance agencies to have you on hold when something goes wrong. This isn't a problem with them – their 24/7 access to customer service allows you to talk to an expert and solve the problem immediately.
They made things even easier thanks to their other services – Texas Insurance Agency provides everything you can think of. They also have auto, business, flood, boat, and life insurance. You'll be working with a company that is well-rounded and trustworthy, so all of your needs will be effortlessly met. Here are just a few details on what else Texas Insurance Agency can do for you:
AUTO INSURANCE 
Much like the Pearland Tx motorcycle insurance coverage listed above, they offer liability, collision, comprehensive, uninsured, medical, and full coverage insurance.
BUSINESS INSURANCE
Includes commercial insurance policy, commercial general liability insurance, and commercial umbrella insurance. They will also offer commercial property insurance and workers' compensation – if you do own a business, this is definitely worth looking into.
FLOOD INSURANCE
Unfortunately, this isn't covered by home insurance. Considering flood insurance may be a good idea if you haven't already, especially now that Texas Insurance Agency has new private insurance plans.
BOAT INSURANCE
This could include property, liability, repair cost, uninsured, and medical payments for your watercraft.
LIFE INSURANCE
In the event of losing a loved one, they offer term and permanent life insurance.
As of May 20, 2020, Texas Insurance Agency will also be offering business interruption insurance. If you own a small business, this could cushion it from a potential loss of finances. Checking out their blog may be a good idea for those that are interested in learning more – they also have tips on getting the most out of your coverage. The insurance agents are also more than happy to help with any questions or concerns by telephone. Give them a call at (281) 398-1010 at their Pearland location.
If you can't tell already, there's a sense of community and genuineness at this agency that you won't be able to find anywhere else! Texas Insurance Agency is the way to go when it comes to your Pearland Tx motorcycle insurance needs.
FUN FACTS
Pearland is also known as 'agricultural Eden.'
The population increased by 50,000 in the past 10 years
'Pearland' got its name from all the pear trees that grew in the area
To learn more information about Pearland, click here