June 10, 2020
Do I Need Flood Insurance For My Business?
What most do not realize is that standard property insurance will not cover you in the case of a flood. And this goes for commercial properties as well. Neither a Commercial Package Policy (CPP) or a Business Owners Policy (BOP) will include flood insurance. This is by design, though. As a business owner, you need to go out of your way to purchase a separate flood insurance policy.
Texas Insurance always recommends flood insurance to our commercial clients and all property owners. Especially since the Greater Houston area is one of the most at-risk regions in the country for flood damage. Our tropical storms, hurricanes, frequent rainfall, sea-level elevation, and outdated infrastructure compounds our chances for flooding with high property damage. Still in our memory, approximately 80% of residents in the areas hit hardest by Hurricane Harvey did not have flood insurance. And federal disaster aid has limited coverage for property owners, coming in the form of a low-interest loan that has to be paid back.
FEMA's Insurance Plan
The most common form of flood insurance comes in the form of the National Flood Insurance Program, or NFIP, through FEMA. An NFIP policy overs up to $500,000 for buildings and $500,000 for contents. And NFIP is likely your cheapest available option.
However, there are others. You can look for private insurance policies with us that might be more comprehensive. For example, NFIP does not include Business Income Insurance, which covers the interruption in income required to keep your company afloat that a natural disaster causes.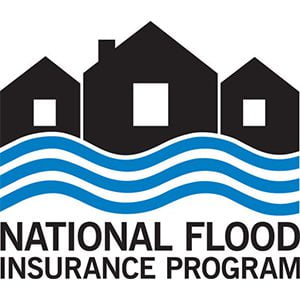 When you think of the many events that can cause your building to accumulate water, the definition for flood can get pretty broad. Luckily, the NFIP provides a technical one that most insurance works off of:
A general and temporary condition of partial or complete inundation of two or more acres of normally dry land area or of two or more properties (at least one of which is your property) from any of the following:
Overflow of inland or tidal waters
Unusual and rapid accumulation or runoff or runoff of surface waters from any source
Mudflow, defined as a river of liquid and flowing mud on the surfaces of normally dry land areas, as when a current of water carries earth. Other earth movements such as landslide, slope failure, or a saturated soil mass moving by liquidity down a slope, are not mudflows.
Collapse or subsidence of land along the shore of a lake or a similar body of water as a result of erosion or undermining caused by waves or currents of water exceeding anticipated cyclical levels that result in a flood as defined above.
Your Independent Insurance Agents
Floods happen everywhere. According to FEMA, "Floods are the most common and costly disaster in the United States."
They occur in every state in the country and 98% of counties. But, as we said before, we are in an especially at-risk area. You can use FEMA's Flood Maps to assess your commercial property's particular risk.
Your independent insurance agents at Texas Insurance Agency can help you find the right Flood Insurance Policy. We work hard to find the one that protects you from your building's potential dangers while keeping your costs appropriate only for the coverage you pay for. Call us at (281) 398-1010 or email us through info@texinsagency.com to start with your commercial flood insurance policy.